Welcome back to "Sing Me a Book"
The book I am featuring today has been my favorite alphabet book since I first learned it during my undergraduate work almost 25 years ago. This is my "go-to" book when teachers are doing a thematic unit on bugs, but it's so fun that I don't wait to introduce it and the kids request it often.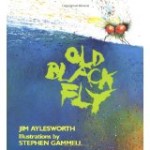 Old Black Fly was written by Jim Aylesworth to be sung to the tune of "Joshua Fought the Battle of Jericho". It is a very funny story about a fly buzzin' around and landing on everything in the whole house, including the "stack of clean underwear". Illustrations by Stephen Gammel add another dimension to the humor.
The first instruction that I give to the kids is to work on the bi-lateral movement waving side-to-side as we sing the chorus "shoo fly, shoo fly, shoo".  Each verse has a word or words that repeat three times such as "Birthday cake, Birthday cake, Birthday cake" and kids are encouraged to sing along.
In order to promote active listening skills, I take time at the end of the book to ask the kids "what happened to the fly?" Can you figure out the secret? Post in the comments below.
In my last post (read that here) I talked about using a scanner to print pictures for sequencing and fine motor goal areas. That technique can be used for this book as well, although I prefer to use it with a simple soundtrack and focus on the motor and language goals.  I sing it acapella with my individual clients so that I can slow down the pace to focus on specific goal areas.
Don't know this melody? Think this book is too hard? Click HERE to download the soundtrack that I use with my groups and find out how simple it is to add an extra element of fun.
Come back and visit next time and I will tell you about the fantastic farm animal books that I am using.