Music therapy is the clinical and evidence-based use of music interventions to accomplish individualized goals within a therapeutic relationship by a credentialed professional who has completed an approved music therapy program. Watch this excellent overview of music therapy.
Music therapy interventions can be designed to:
Alleviate Pain
Enhance Memory
Improve Communication
Promote Physical Rehabilitation
Promote Wellness
Manage Stress
Express Feelings
Research in music therapy supports its effectiveness in a wide variety of healthcare and educational settings. (Source AMTA, 2013)
---
What do music therapists do?  
 Assess:
neurologic function

sensory processing

emotional well-being

physical health

social functioning,

communication abilities

cognitive skills
Design music interventions using

:
sensory integration

improvisation

receptive music listening

song writing

lyric discussion

music and imagery

music performance
---
Who can benefit from music therapy?

children

adolescents,

adults

elderly
Conditions                                                                 
mental health 

developmental and learning disabilities

autism spectrum

dementia

substance abuse

brain injuries

physical disabilities

acute and chronic pain

childbirth
---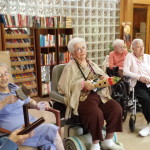 Who is qualified to practice music therapy?
---