So I didn't hire a car, plane, boat or train to transport us to far off places but we did pretend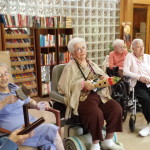 The topic of summer vacation is pretty universal, most of us have schedule changes to accommodate for vacations and the ending of one school year and the start of another.
I like to start my groups with some sort of movement and Independence Day is the perfect reason to use patriotic songs as we wave flags and march to the beat. I then hand out instruments and we sing and play American folk songs. This is all very fun and the outcomes are fairly predictable and I use the same format with all of the groups (ages 3 years up to 94 years). But then, after we have gotten all of our neurons firing and our bodies are releasing all of the "feel good" hormones it is time to start our cognitive exercises.
As a college student I watched many videos of music therapy in action. It was the "Nordoff-Robbins" method that stuck me with the realization that when improvisation is done correctly, everyone can have a voice. So I incorporate improvisation into my sessions whenever possible. One of my favorite interventions is to use the blues song "Kansas City" written by Jerry Leiber and Mike Stoller and take my clients "on vacation". (enjoy the video below by Muddy Waters) The way I do this is to sing the original (slightly edited) first verse and then I go around the room and ask each individual the question "If you could go anywhere for your vacation, where would you go?"  When I ask kids I get answers like "Disneyland, Sea World and camping". We then put the answer into the song.  But now that I work with adults in memory care and skilled nursing the answers are much broader and have led to some great discussions about their travels and experiences. Millie is a resident on a memory care unit and usually unable to tell me her name. But this past week, when I asked Millie where she would like to go, she got the most beautiful expression on her face and said "Jerusalem". It is those in the moment experiences that illustrate the power of music.