Flower Garden by Eve Bunting
Eve Bunting is an a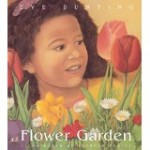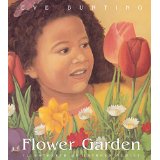 ward winning children's author and has a long list of titles to her credit. I was drawn to this book by the beautiful illustrations by Kathryn Hewitt. The story is an excellent sequence of a father and daughter planting a window box garden for the Mother's birthday. I use this in May around Mother's day as well. The book works with the song "Frere Jacques" and I add a repetitive chorus after every page that includes sign language "pretty flowers, pretty flowers, all around, all around". There is one page that has no words but the girl is looking out the window and sees her mom coming home. I use the quiet sign and we hum the verse then quietly sing the chorus as I turn the page.
Check out the link for the ASL signs "Pretty" "Flowers" "All around" for this song and click here for a free download of the soundtrack (Note the words are copyrighted so this is an instrumental only track).
How do you celebrate Spring? Leave your comments below and please come back in April for a Stompin' good time!