By this time in the month of October, the kids are getting excited about Halloween and that's really all they want to talk about. Of course there are lots of options to address goals and objectives within this great theme!
There are a LOT of Halloween books that are written to go to a specific song or can be easily adapted to use in music therapy sessions. Here are THREE of my favorites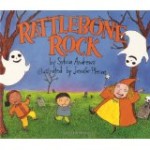 Rattlebone Rock – written by Sylvia Andrews – illustrated by Jennifer Plecas.
This is a silly book about a town having a party in the graveyard on Halloween. It is very rhythmic and there are spooky sounds on every page. I start by having the kids keep the beat by patting their knees and then have them echo the spooky sounds. This book is great for older kids as well and we have used instruments to make the spooky sounds.
Shake Dem Halloween Bones – written by W. Nicola-Lisa – illustrated by Mike Reed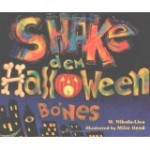 This book is so much fun that the kids request this book long after Halloween is over. This Halloween party is attended by some of the most famous fairy tale folks they "Shake dem bones at the hip hop Halloween ball" it is very rhythmic and has a repetitive chorus. I use a 50's hip hop style, and the melody is a permutation of "Rock Around the Clock" but it could easily be modified to whatever feels comfortable to you.  Click here to order my original audio soundtrack (only $.99) for use with this book.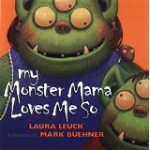 My Monster Mama Loves Me So – by Laura Leuck – illustrated by Mark Buehner
Believe me when I tell you that of ALL of the books in my repertoire, this is the ALL TIME FAVORITE of the kids, and most of the teachers too! This book can be sung to the tune of "A Sailor Went to Sea, Sea, Sea" and I have added a repetitive chorus after almost every page turn. We use sign language during the chorus. Click on these links for the ASL signs "Monster", "Mama", "Loves Me So", "Let me Tell You", "How I Know"
then click here to order my original audio soundtrack for only $.99
I truly enjoy sharing my ideas with you and want to hear from you. Do you like singing books in your sessions? Is this technique sparking creativity? Please let me know in the comments below.
Come back in November for an extra-special Thanksgiving Song and book.