So you just read the title and clicked on this post, all the while you  may be thinking to yourself, "Oh come on, how can a service that I have to pay for out of my already stretched thin budget really save my facility money?"First of all let me say that YES, You will have to pay for music therapy services, BUT keep on reading and I will elaborate on how it will save you money.Evidence-Based Research with Proven Results Music therapy is a scientifically based practice. Music therapist's set goals for each individual or group and we document progress toward those goals. We conduct research and publish the results in our professional journals and those of related disciplines.

So if you are the administrator for a public or private special education program, these are outcomes that are experienced by a large majority of students– even those individuals that don't respond well to other types of interventions.

¯ Reduces disruptive behavior –In June of 2003 Psychiatric times published a review of    music therapy research that concluded that music therapy is an effective modality to reduce disruptive behavior in children and teens with behavior disorders, communication disorders and autism spectrum disorders. Read that article here.
¯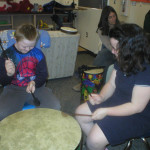 Enhances social skills – The National Institute of Health website posted research on specific music therapy techniques to support social skill development for children and adolescents. The research was conducted at three separate sites and concluded that social management and peer relations skills were significantly improved for the children in the program. Read that study here.

¯ Builds trusting relationships – One of the key ingredients to achieving goals and objectives is to have a  consistent structure and a strong rapport between the   therapist and the students. As the mutual trust is developed, therapists can personalize goals and objectives for each student and address  individual needs within the group. Music therapy sessions are fun so children look forward to the weekly sessions and this can be used as a motivation to achieve goals outside of the music  therapy sessions as well.

¯ Improves language and communication skills – In May 2011, researchers in Australia published a study of a music therapy program for disabled children and their parents and found that language and communication skills were improved as were the non-verbal communication and parent/child bond. Click here for the link. The practice of Neurological Music Therapy is that the therapist looks at ways to involve each individual into the music making process and therefore increasing neural synapses throughout the brain. For more specific information about Neurologic Music Therapy check this website.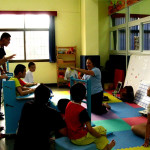 ¯ Supports educational curriculum– Music   therapists are trained to learn a wide variety of music and use that knowledge to provide specific songs, dances and improvisational experiences that support thematic material and classroom curriculum.  ¯ Addresses IEP goals – Music therapy can address IEP goals in the group or individual setting and can be documented as a supportive service on the IEP.  Music Therapists use differentiated instruction techniques and a multi-sensory approach to address multiple goal areas in each music therapy session. ¯ Music Therapy as a Marketing Tool-Music therapy has been receiving a lot of media attention and parents are more aware of the benefits of music therapy as they are shopping for appropriate education placement. An article published in the Huffington Post in 2012 summarized research about music therapy with the ASD population and stated that music therapy was effective where other therapies were not and stated "So, the more music therapy the better for those with ASD!" Read that article here.  
Schedule your consultation today!
Call Alison Bowers, MM, MT-BC
480-296-9842