In the first 3 posts for this series I talked about the importance of passion, for music, for music therapy and for the profession. In the last post, I talked about my love for singing and stated that my father wanted me to do something "more substantial" with my life.
After my dad's untimely death, during my first year at community college, I quit school and got a job as a waitress and sang in a rock band. I loved singing in the band, but we were never very good or very successful and after a while we just gave up and got "real" jobs. My mother continued to encourage me, sometimes very loudly, to get a college degree and make a path for myself, so I took business classes part time while still working full time until my older daughter was born. Then after many complications of pregnancy followed by post-partum depression I started seeing a very wise counselor. He helped me to examine the things that I was doing in my life and how they were affecting my future. I went back to school full time as a business major but I was still miserable because life without music looked pretty empty.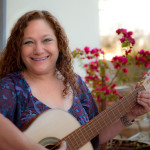 There was a music history class for non-music majors and I took it for fun one semester, and after class one day, I was talking to the professor and she asked me why I wasn't a music major. I told her that I didn't think I was good enough, that I really wasn't an opera singer and had a lot of excuses. She encouraged me to check out the music education program and I promised that I would think about it. So that afternoon I went to the main office of the music building at ASU and asked for the checklist of requirements for the music education degree program. The clerk was very helpful, but gave me the wrong list, the one she gave me was for music therapy, and she apologized, gave me the music education one and wanted to take the music therapy checklist back, but I kept it. Years before, I had seen a music therapy session in a group home for developmentally delayed adults but never really gave it a second thought until that moment.
During my early teen years I had done a lot of volunteer events for people with special needs and I had worked as a Candy Striper in a nursing home. So when I compared the two programs, I decided that music therapy just might be what I was looking for. My passing the audition was another miracle and within two weeks of changing my major I knew I had found the right path for me.
I feel very fortunate that Arizona State University has an excellent music therapy program and I found it quite by accident, which is why I believe that passion is so important, because I was a "rock star wannabe" with very little formal musical education and had to learn most of my musicianship in a very short amount of time, and while raising my young children. Without passion, I wouldn't have stuck with it and become the music therapist that I am.
In the 17 years since earning my MT-BC, my passion for serving others through this extremely powerful medium of music therapy has continued to grow. I have had the pleasure and privilege of serving a wide variety of people and I have witnessed children singing for the first time and elders with dementia that can't remember their own name but can remember entire songs.
The biggest blessing of being a music therapist was after my mother had a series of severe strokes. She was in the hospital for 4 months and the doctors told me she would never walk or talk again. After her hospital stay, I brought her to live with me for 6 weeks. I knew her musical preferences and her love of dance and used this to help in therapy each and every day. She was able to walk and talk again although never to her previous level. But I was blessed to have five more years with her. After she passed away, I used music therapy to help me with the loss by returning to ASU for my Master's degree in music therapy.
In my first post of this series, I posed the question "What makes some music therapists successful while others are struggling to get enough income to live on?" In order to be a successful music therapist, you must have passion for music, and passion for music therapy. You have to be so determined to stay on the path and that you don't give up, regardless of the road blocks put in your way. I came upon this profession quite by accident, but I am thankful for each and every opportunity I have to help enrich other's lives through the powerful medium of music therapy.