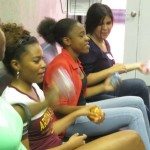 A few weeks ago, I wrote about the ways that music therapy can address vocational skills, you can read that post here, the clients that I was referring to in that article had diagnoses such as developmental delays, autism and Cerebral Palsy and they attend day programs. But this week I had the opportunity to provide a music therapy program for a completely different type of vocational training program.
DK Advocates  has programs in Phoenix and Tucson and they offer training for call centers, computer skills, food service, retail and more. Their clients are people who may need to change careers due to an injury or illness. There was also a group of teens that had been doing a summer work program and I did a drum group in honor of their completion of the program.
Music therapy is still an effective modality for these clients, but the goals are different, the session structure is different and the focus is different as well. These clients didn't need any help to share and trade instruments and most could keep a steady beat. So when doing this group, I gave each client the opportunity to lead a rhythm pattern and have a solo to provide opportunities to practice leadership skills.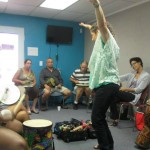 We also discussed the many ways that being involved in the music making is good for your brain and your body and the importance of personal self-care. Then the discussion turned to the great value of always learning new things and to find things to be passionate about. The participants asked very interesting questions such as ways to use music  while studying and while exercising.
All in all it was so much fun for me to work in a different program and meet new people. And I hope that the teens learned a little bit about wellness and about different types of careers, and I hope that my new friend, Mario, who plays bass and drums and is planning to major in psychology in college, will investigate a career in music therapy.